RACEBOOK
CITIbet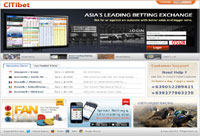 Asia's leading online Horse Racing and Greyhounds betting bookmaker.
CITIBET are Asia's leading online horse and greyhounds betting exchange that operates at the lowest bookmaking margins. This will ultimately equate to having the best possible odds for you. To intensify your betting experience, check out their live horse racing feature and catch all the excitement right from your computer!
-- click to view more --
Welcome to 12WinAsia's Racebook!
-- click to view more --